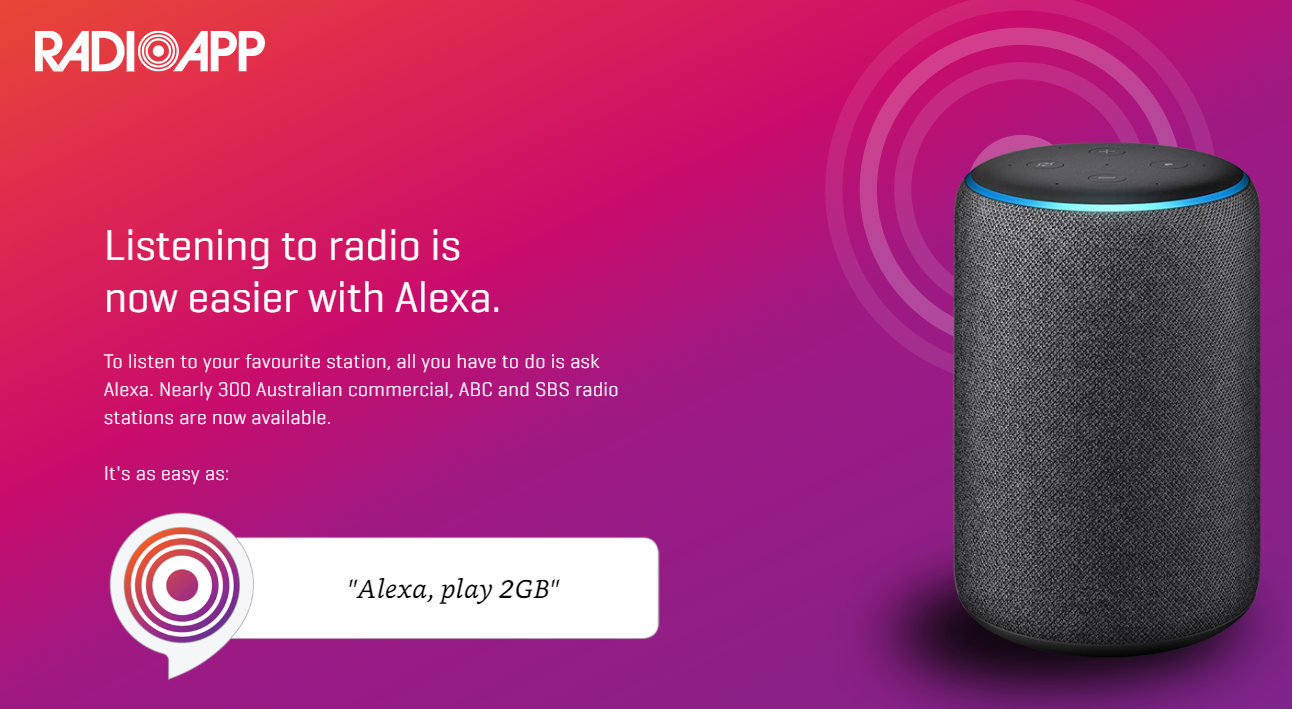 Asking for radio on Alexa not working? Here is what to do.
Australian radio now works on Alexa via any Amazon Alexa enabled device such as the Amazon Echo, Amazon Echo Dot or the Amazon Echo Show.
How to ask for Australian radio stations on Alexa
To ask for your favourite RadioApp station, all you have to say is "Alexa, play", and the name of your favourite radio station.
For example:
"Alexa, play Smooth FM"
"Alexa, play Star 102.7"
"Alexa, play Mix 102.3"
A small number of users have reported that it doesn't always work as intended, with Alexa not giving you the station you asked for.
You probably have Alexa set up with your overseas Amazon account.
Some users have linked their Amazon Echo speaker with their Amazon US or UK account, and NOT to an Amazon Australia account.  Listening to Aussie radio works correctly if your speaker is linked with an Amazon Australia account.
So.. how do you fix this issue?
Easy.  These steps will only take you 2 minutes:
Create an Amazon Australia account.

Go to amazon.com.au.
At the top right of the screen you'll see "Hello. Sign in".
Hover your mouse over that. You'll see "New customer? Start here."  Here you can create your new account.

Open the Amazon Alexa app on your phone. You'll need to sign out of your overseas Amazon account.

To do this, press the three lines at the top left hand corner of the screen.
A menu will open up; press 'Settings'. It will bring up a new menu.
Scroll all the way to the bottom and press 'Sign Out'. Sign out of the app here.

Sign back in to the Amazon Alexa app using your new Australian account.
You now need to link the speaker back into the Alexa app. Even though you already had the speaker working through the app, you'll need to link it up to your new Aussie Amazon account.

Press the button on the bottom right hand corner of the screen. The button looks like a little house with levers.
A plus button will now appear on the top right of the screen. Press that.
Press 'Add Device'.
You'll see a list of devices you can add. Pick your device and follow the instructions on the app there.
And you're away..!
Have any more questions?  Check out our FAQ or drop us a line with your questions, comments or feedback.
BACK