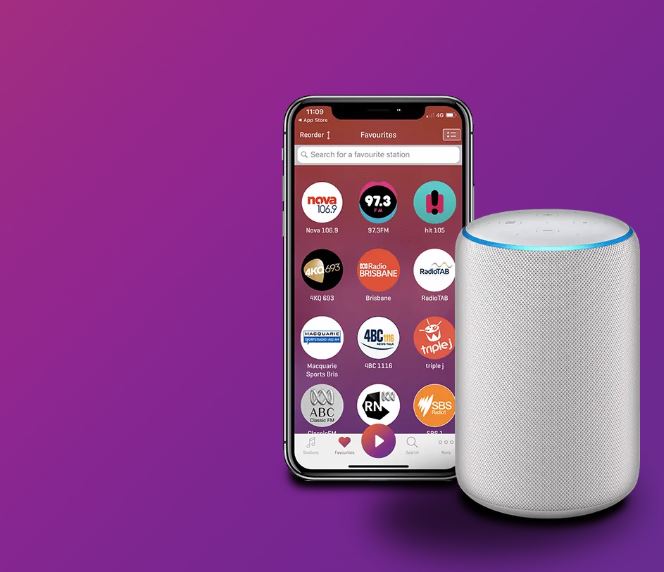 How To Stream and Listen To Live Australian Radio Online
Whether you love listening to the latest music via Aussie radio stations such as Nova, KIIS, Fox FM, Power FM or triple j; or you want to catch up on the latest news, views and sport from Aussie radio stations such as 2GB, FIVEaa, 3AW and ABC Radio, listening online and wherever you go is now even easier.  RadioApp gives you the best way to stream and listen to live Australian radio wherever you are.
RadioApp features nearly 300 of Australia's live streaming commercial radio stations, ABC and SBS radio stations all in the one place.
We have 5 easy ways to listen:
On your Apple iPhone via the RadioApp smartphone app on iOS. Get it from the app store here.
On your Android phone via the RadioApp smartphone app on Android. Get it from Google Play here.
On your Amazon Alexa enabled speaker such as the Amazon Echo. To get radio to work on Alexa, all you have to say is 'Alexa, play' and say the name of your radio station.  For example, 'Alexa, play S.E.N.'
On your Sonos speaker. Even if you don't have one of the newer Sonos speakers, you can still get live Aussie radio streaming on your speaker via RadioApp within the Sonos app.  For instructions on how to set this up the first time, check out our easy guide on what to do.
In your car via Apple CarPlay and Android Auto. Plug your phone in when you're using your car and away you go.
We're always working on improving and adding ways for you to listen to live Australian radio wherever you are and however you are listening.  If you have any suggestions or feedback, please let us know here on the contact page.
BACK